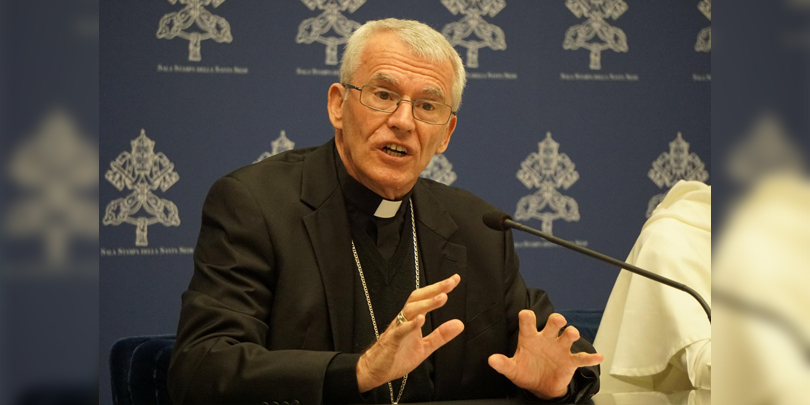 Organisers of Pope Francis' consultation with Catholics around the world say there is a growing consensus that the ongoing Synod of Bishops process should result in the Vatican giving more deference to local Church authorities. Source: NCR Online.
"There is, in fact, more than one way of being the Church," said Perth Archbishop Timothy Costelloe SDB, who said that a significant feature of synodality is the understanding that unity does not call for uniformity within the Church.
Archbishop Costelloe's remarks came during a Vatican press conference yesterday to mark the conclusion of the continental phase of the three-year Synod process.
During February and March, seven continental meetings took place to reflect on themes that emerged during the first phase of the Synod process, which included tens of thousands of listening sessions with Catholics worldwide. After the second phase of those gatherings, the third phase will include two month-long assemblies in Rome in October 2023 and October 2024.
The findings from the initial listening sessions were detailed in the 45-page "Enlarge the space of your tent" document released last October. That report formed the basis of the continental meetings that, according to Archbishop Costelloe, evidenced widespread enthusiasm for this new era of openness and dialogue.
"There's almost universal appreciation of the process and a desire that we not go backwards, that we've found something precious in the life of the Church, which has great potential for the future and that we need to continue down this pathway to the future, to be more fully the Church that we're supposed to be," Archbishop Costelloe said.
Yet Archbishop Costelloe, a member of the seven-person team that will organise the Synod of Bishops meeting in Rome this October, cautioned that the Synod cannot be reduced to just one issue or a handful of concerns.
Vatican Synod office undersecretary Sr Nathalie Becquart XMCJ said two of the major questions being reckoned with through the Synod process are what should be decided at each level of the Church and how to maintain the Church's unity, with room for flexibility and local adaptations.
FULL STORY
Synod organisers say process should lead to greater local control in Catholic Church (By Christopher White, NCR Online)
RELATED COVERAGE
Synod Continental Stage: 'Most innovative aspect of synodal process' (Vatican News)