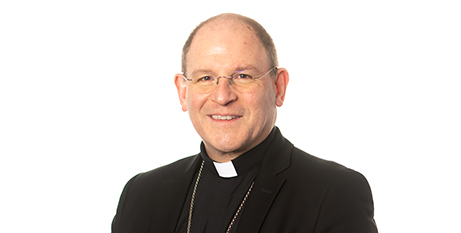 Pope Francis has appointed Broken Bay Bishop Anthony Randazzo to the role of Apostolic Administrator of the Personal Ordinariate of Our Lady of the Southern Cross, Australia.
Pope Benedict created the Ordinariate in 2012 to provide a pathway for Anglicans to full communion in the Roman Catholic Church, while retaining elements of their worship traditions and spiritual heritage in their union with the Catholic Church.
Although Bishop Randazzo has been called to serve under the direct authority of the Pope, in communion with the bishops of the Australian Catholic Bishops Conference, he will continue as Bishop of Broken Bay.
"The Ordinariate, which is equivalent to a diocese, is built up of communities and individuals of the Anglican heritage gathered around the Ordinary," Bishop Randazzo said following the Vatican announcement on Friday evening.
"I accept this appointment with great anticipation, however I realise I have much to learn, especially regarding the rich, beautiful, and distinctive theological, spiritual, and liturgical patrimony of the Ordinariate."
There are three Personal Ordinariates in the world: Our Lady of Walsingham in the United Kingdom; the Chair of St Peter in the United States and Canada; and Our Lady of the Southern Cross here in Australia.
Based in Sydney, the Personal Ordinariate of Our Lady of the Southern Cross comprises communities in Oceania and Japan.
"I am indebted to Monsignor Carl Reid of Perth for his pastoral care of the Ordinariate since his appointment as Ordinary in March 2019. I am also thankful to the Ordinary Emeritus, Monsignor Harry Entwistle, for his leadership.
Bishop Randazzo will take up his new role in July.
FULL STORY
Pope appoints Broken Bay Bishop Anthony Randazzo Apostolic Administrator of the Personal Ordinariate of Our Lady of the Southern Cross (Broken Bay Diocese)