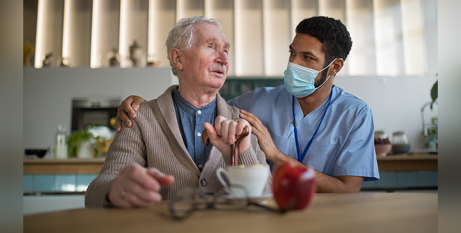 Aged care providers are urging the Albanese Government to delay slashing work rights for international students, warning it will worsen critical workforce shortages in the flatlining sector without an urgent replacement. Source: The Age.
Student visa holders are heavily relied upon to fill low-paid care roles in the staff-strapped sector, but the unlimited hours they've been able to work under pandemic-era visa arrangements will be reduced to 24 hours a week under a raft of measures designed to rein in the exploitation of temporary workers.
According to Catholic Health Australia, at least 10 per cent of its aged care workforce are student visa holders, 40 per cent of whom work more than 48 hours a fortnight.
CHA aged care director Jason Kara said the industry was juggling severe work shortages while trying to increase staffing to meet upcoming requirements for minutes of care per patient.
"CHA has raised the issue of student visa work limits with the Government and is working through the issue collaboratively," Mr Kara said.
The Government is revising its intake of international students to ensure they are coming to Australia to study useful skills and mitigate the use of student visas as a backdoor method to filling low-paid jobs.
"Instead of pretending that some students are here to study when they are actually here to work, we need to look to create proper, capped, safe, tripartite pathways for workers in key sectors, such as care," Home Affairs Minister Clare O'Neil said on Thursday.
As Labor rethinks a commitment to 24/7 aged care nurses in facilities, Ms O'Neil the workforce crisis couldn't be fixed without migration, but didn't put a timeline on a new plan to bring in low-paid workers in collaboration with businesses and unions.
FULL STORY
Aged care providers fear student visa changes will 'devastate' their workforce (By Angus Thompson, The Age)