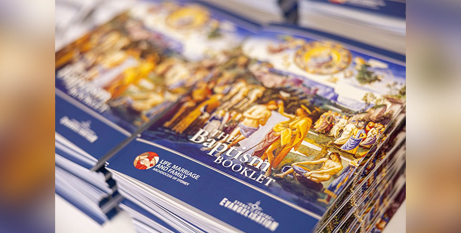 The Sydney Centre for Evangelisation has produced a new resource on Baptism, highlighting the central part it plays in the life of Christians and answering some common questions about the sacrament. Source: The Catholic Weekly.
The booklet features scriptural quotes, writings from the saints and short extracts from the Catechism of the Catholic Church to help accompany those wishing to enter the Catholic faith as well as parents, teachers and sacramental coordinators who may wish to use it as a formation tool.
The 20-page booklet was launched to coincide with the Easter season. Sydney Auxiliary Bishop Richard Umbers said this is a most appropriate time to explore why baptism is so important in the light of Christ's resurrection.
"The booklet presents Baptism through the Easter liturgy, and having celebrated Christ's resurrection recently, it is wonderful to launch this resource during Easter to celebrate our new Catholics and accompany those learning about the faith," he said.
It follows the production of a Mass booklet by the Life, Marriage and Family team in 2022 which explained the purpose and symbols of the Mass, similarly drawing upon the writings of the saints and the catechism.
"I hope this booklet assists to break open these profound aspects of baptism, by which God gives his very life to us, with all those who are seeking and preparing to enter the Church," said Sydney Centre for Evangelisation director Daniel Ang.
Copies of the baptism booklet are available for purchase online via the Mustard Seed Bookshop
FULL STORY
Baptism resource to bring sacrament alive (By Michale Kenny, The Catholic Weekly)