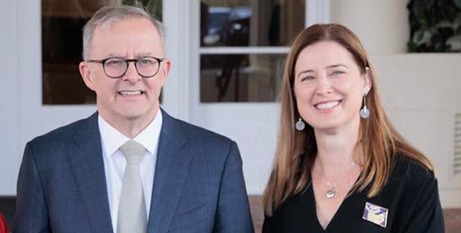 State and territory housing ministers have written to all members of the Senate, urging them to support the Albanese Government's $10 billion Housing Australia Future Fund bill. Source: Canberra Times.
The key housing bill offered by the Government to finance the build of 30,000 affordable homes in the first five years failed to pass Parliament before the May Budget, with the Greens frustrating the Government by calling for a national rent freeze.
Prime Minister Anthony Albanese has accused the Greens of catching the Coalition's "bizarre disease of just saying no to everything without any rational explanation".
The Coalition does not support the bill while independent David Pocock and the Jacqui Lambie Network senators have urged more ambition.
After meeting for several hours yesterday at Parliament House with federal Housing Minister Julie Collins, the state and territory ministers – all Labor bar the Tasmanian Liberal Housing Minister Guy Barnett – issued a letter to the Senate members urging support for the HAFF as an important step towards providing more Australians a safe and secure home.
"Too many Australians are struggling to find a safe and affordable place to call home, with many experiencing financial stress as a result," the letter said.
"An increase to the supply of well-located social and affordable homes is critical to supporting people across the housing spectrum, but especially Australia's most vulnerable."
The ministers backed the HAFF proposal, saying it is part of the Commonwealth coming to the table over housing needs. They said further delays to the bill's passage would put delivery of social and affordable homes at risk, "delaying Australians' access to safe and secure housing" in the "midst of serious housing challenges".
FULL STORY
Housing ministers unite to urge Senate to pass the Housing Australia Future Fund Bill (By Karen Barlow, Canberra Times)