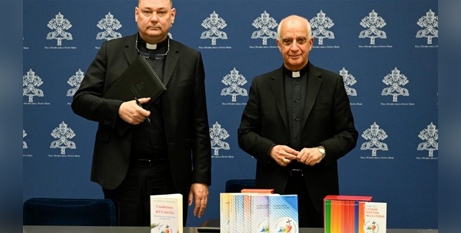 The Vatican office in charge of coordinating plans for the Holy Year 2025 is launching a new website and an app to help people register and to guide them along their pilgrimage in Rome. Source: OSV News.
By registering online at iubilaeum2025.va or on the Jubilee app, people will receive a free digital "pilgrim's card" which will be needed to participate in Jubilee events, especially gaining access to the Holy Door at St Peter's Basilica, said Msgr Graham Bell, undersecretary of the Dicastery for Evangelisation's section that is coordinating the Holy Year.
The Jubilee website will go live today and be available in nine languages, Msgr Bell told a news conference at the Vatican yesterday.
People can begin registering online starting in September, he said, "by clicking on the 'participate' button". After registering, people will be able to access a personal page on the site's "pilgrim's zone", which will also go live in September.
Registrants will receive a digital "pilgrim's card", which is a personal QR code needed to access Jubilee events and better facilitate the pilgrimage to the Holy Door, Msgr Bell said.
The Jubilee website and app will give news and information on the Holy Door of St Peter's and the other basilicas, as well as offer the possibility of organising one's own pilgrimage within the city, he said.
Archbishop Rino Fisichella, pro-prefect of the section, said Pope Francis has asked all Catholics to prepare for the Jubilee by spending 2023 studying the documents of the Second Vatican Council, especially its four constitutions, which focused on: the liturgy; the Church as the people of God; Scripture; and the role of the Church in the modern world.
The ordinary Jubilee will begin with the opening of the Holy Door of St Peter's Basilica in December 2024, he said, and there will be "major Jubilee events" throughout 2025.
FULL STORY
Holy Year 2025 website to go live; registration opens in the fall (By Carol Glatz, CNS via OSV News)