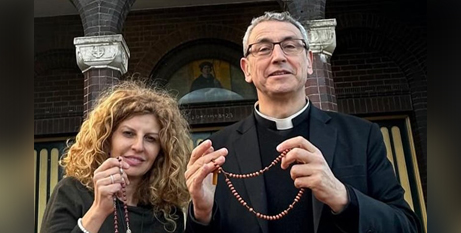 Sydney Catholic Bridget Sakr is so convinced of the power of prayer she is leading a call to raise 100,000 pledges to pray a daily Rosary during this month for the protection of every Australian. Source: The Catholic Weekly.
Not one to dream small, the Legion of Mary member and founder of the HeartFELT online grief support network hopes to inspire Catholics to attend Mass and pray for the country's needs with the Rosary over nine days from May 15 to 23.
The novena ends on the eve of the feast of Our Lady Help of Christians, patroness of Australia, and will run during the month traditionally dedicated to the mother of God.
It has the blessing of St Mel's Campsie parish priest Fr Peter Joseph, who helped to compile nine short daily prayers.
Sydney Catholic Schools is among the supporters, putting the call out for school communities to warm up their rosaries through its network of family educators.
Ms Sakr said she was concerned about the powerful influence of anti-Christian culture and the breakdown of the traditional family unit.
"The Christian ethos of the 10 commandments is being challenged and even attacked and faith is no longer respected as part of the system anymore," she said.
"For a while I've felt the strong desire to bring together thousands of people to pray the Rosary for the conversion and consecration of Australia back to Our Lady's immaculate heart.
"As a Christian, I think prayer is the most important way of fighting back. Our Lady has given us this amazing weapon to use together, why not do it?"
FULL STORY
Rosary crusade called for families (By Marilyn Rodrigues, The Catholic Weekly)