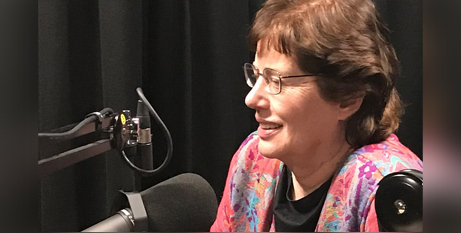 Evangelist and best-selling author Sherry Weddell wants Australian Catholics to "break the silence" about Jesus. Source: The Catholic Leader.
Ahead of her keynote address at Brisbane Archdiocese's Summit 2023 on May 18-20, Ms Weddell spoke about falling Mass attendance in Australian parishes and the demographic shift in the Church.
Recently, the National Church and Life Survey found people who identified as Catholic had fallen in Australia by about 220,000 people.
Ms Weddell said falling Mass attendance could be felt by everyone, not just Catholics.
It was a difficult challenge to face, but she said she knew two places where she would begin to address the problem.
Breaking the silence about Jesus had to happen in "as many ways as you can".
She said it was no wonder so many people did not come to Mass if we never mentioned Jesus.
"When we don't talk about Jesus' active and saving personal Presence among us right now, both spiritually and in the Eucharist … Why are we surprised that so many Catholics and non-Catholics don't know that you can have a joyful, peaceful, healing, and transforming relationship with the personal God who cares about you and answers your prayers?"
Ms Weddell saw the fact that few people in the secularised West "just 'inherit' the faith of their parents" as a major challenge for the Church today.
"To become a disciple and follow Jesus as an adult, they have to know him to be a genuine source of goodness, meaning and healing," she said.
"If you have experienced and believe in the loving and powerful personal God of Christianity, it changes everything.
"We have to help Catholics do that intentionally. If we don't, they won't stay."
For more information visit https://evangelisationbrisbane.org.au/summit/
Ms Weddell will also present The Charisms: The Power of the Holy Spirit Unleashed at events in Sydney on May 22 and 24.
FULL STORY
US Catholic author Sherry Weddell answers big questions for the Church ahead of the Brisbane Summit (By Joe Higgins, The Catholic Leader)
RELATED COVERAGE
Sherry Weddell to explore the power of the Holy Spirit in May (The Catholic Weekly)