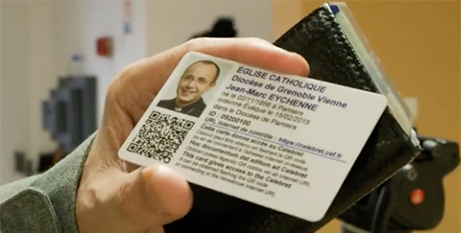 The Church in France has begun issuing a new ID card proving a priest can administer the sacraments, to ensure tighter security amid continued revelations of sexual and spiritual abuse. Source: The Tablet.
The credit card-sized celebret is linked via QR code to a national database of French priests meant to indicate which privileges and constraints a priest has.
French bishops agreed to the new card in November 2021, one month after the shocking Sauvé report estimated a total of 330,000 children were abused in the Church since 1950, two-thirds of them by clerics.
Until now, it was issued on paper and varied according to the diocese, country and religious order.
The new card shows a priest's basic information – name, photo, birthdate, ordination date and place of incardination. It carries a QR code and personal identification code and provides information in French, English and Latin.
By flashing the QR code with a smartphone, it is possible to see the priest's current activity and whether he has full faculties or any limitations on his ministry.
To find out more, the four numbers of the personal code opens a detailed list of faculties, such as celebrating Mass, preaching and hearing confessions, and of any canonical and civil limitations and reasons for them.
Bishops and superiors are now collecting data for all 13,000 priests in France, both secular and religious, and 3000 permanent deacons. Cards should be distributed later this year.
The national card will standardise the celebret for all ordained in France, allow "authorisations and restrictions in real time" and prevent forgeries, the bishops' statement said.
FULL STORY
New ID for French priests to guard against abuse (By Tom Heneghan, The Tablet)