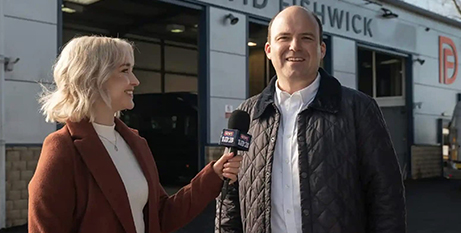 Bank of Dave tells the story of a self-made millionaire who fought to set up his own bank in a small English town. Source: Australian Catholics.
The film is based on the real-life experiences of Dave Fishwick, a car dealer who wanted to establish a bank to support his local community in Burnley, Lancashire. Fishwick wrote a book in 2012 about his experiences (Bank of Dave: How I Took on the Banks) and British television has made a documentary about him.
Bank of Dave is a refreshing comedy with Fishwick (Roy Kinnear) planning to beat the financial bureaucrats at their own game. He aims to support local businesses, establish jobs and create services for his hometown community by becoming his own bank, with plenty of opposition from London's financial sector.
Kinnear brings a charismatic, infectious exuberance to the role of Fishwick. The film champions the underdog and Kinnear charms as the person who takes on corporate, financial institutions. He is helped strategically by Hugh (Joel Fry), a London lawyer, who is hired to sort things out. Hugh believes, like Dave, that banks should be accountable to the people they say they are serving.
Director Chris Foggin delivers a feel-good movie that colourfully pits David against Goliath in a small town.
Review by Peter W Sheehan, Jesuit Media.
Bank of Dave: Starring Rory Kinnear and Joel Fry. Also, Phoebe Dynevor, Hugh Bonneville and Cathy Tyson. Directed by Chris Foggin. Rated M (Coarse language). 108 min.
FULL REVIEW
Bank of Dave (Jesuit Media via Australian Catholics)