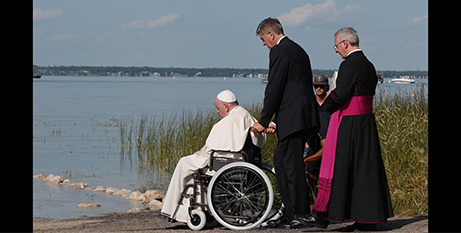 Pope Francis has emphasised the importance of the virtue of justice in a message for this year's World Day of Prayer for the Care of Creation. Source: CNA.
"God wants justice to reign; it is as essential to our life as God's children, made in his likeness, as water is essential for our physical survival," he said in the message, released yesterday.
"God wants everyone to strive to be just in every situation, to live according to his laws and thus to enable life to flourish," the Pope continued. "When we 'Seek first the kingdom of God' (Matthew 6:33), maintaining a right relationship with God, humanity, and nature, then justice and peace can flow like a never-failing stream of pure water, nourishing humanity and all creatures."
Recalling his apostolic journey to Canada in July 2022, and in particular his visit to the Indigenous People on the shores of Lac Sainte Anne in Alberta, the Pope reflected on how so many of the people down through the ages have found "consolation and strength" from these waters.
Pope Francis established the World Day of Prayer for the Care of Creation in 2015, to be celebrated every year on September. 1.
The ecumenical day of prayer is seen as a sign of unity with the Orthodox Church and launches what is called the Season of Creation, celebrated every year from September 1 to October 4, the feast of St Francis of Assisi.
The theme of the 2023 Season of Creation is "Let Justice and Peace Flow."
Pope Francis said in his message that the theme was inspired by the words of the prophet Amos: "Let justice flow on like a river, righteousness like a never-failing stream."
Regarding public policies, Pope Francis said world leaders participating in COP28, the UN climate change conference at the end of the year, "must listen to science and institute a rapid and equitable transition to end the era of fossil fuel".
"Let us raise our voices to halt this injustice towards the poor and towards our children, who will bear the worst effects of climate change," he said.
FULL STORY
Pope Francis on care for creation: 'God wants justice to reign' (By Hannah Brockhaus, CNA)