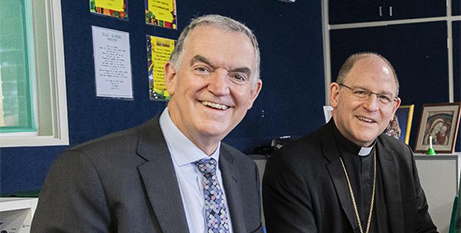 Catholic Schools Broken Bay has finalised a new enterprise agreement with the Independent Education Union covering staff at 44 diocesan schools.
The new enterprise agreement includes, for the first time, a clear statement of mission by embedding CSBB's Towards 2025 Strategy in the agreement. The new agreement also commits CSBB to continuing the process of staff consultation and introducing more formal consultation with the IEU at regular intervals.
The agreement also guarantees CSBB salaries will remain at least 1.5 per cent above the equivalent rates in the NSW Department of Education. In addition, there will be a general 3 per cent increase in rates of pay from the first full pay period on or after January 1, 2024.
Broken Bay Bishop Anthony Randazzo welcomed the new agreement as a further demonstration of CSBB's commitment to achieving fair and just outcomes and providing certainty for staff.
"For some time I have been asking that we provide certainty around the employment conditions for CSBB staff, " Bishop Randazzo said.
"Teachers and our staff who support teachers play a critical role in the lives of the students we serve, they deserve to be recognised."
CSBB director of schools Danny Casey said he was delighted with the strong staff engagement and support of the new agreement and the Towards 2025 Strategy.
"We had an extraordinary participation rate with over 84 per cent of staff in schools casting their votes and an overwhelming 93 per cent of staff voted in favour of approving the new agreement.
"This demonstrates not just widespread support for the new [agreement] but the benefit of engaging with staff and ensuring that their voice is heard.
"We are also pleased to have achieved these objectives while still operating at a level of efficiency that makes the new [agreement] affordable."
FULL STORY
Empowering the staff vote: Catholic Schools Broken Bay's new Enterprise Agreement receives resounding staff support (Catholic Schools Broken Bay)
RELATED COVERAGE
NSW Catholic School Teachers Paid 1.5% More Than Gov't School Teachers (Mirage News)