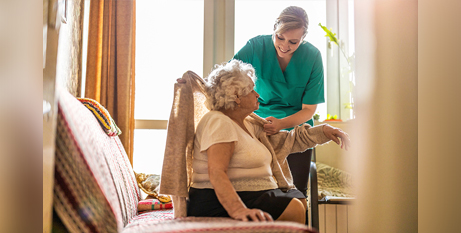 Fewer than 10 per cent of Australia's nursing homes have enough care workers to meet the new Government-mandated staffing requirements coming into effect in July, aged care analysis has found. Source: The Australian.
The new University of Technology Sydney (UTS) study finds workforce shortfalls in aged care threaten the requirement for new minimum minutes of direct care per resident, minimum nursing care minutes and availability of 24/7 nurses, the last starting in just over a month.
New data from the Department of Health and Aged Care has revealed more than 500 nursing homes are owed more than $570 million in funding for COVID-19 support grants from the federal Government, with one aged care provider awaiting more than $33m still to be processed.
The UTS Ageing Research Collaboration report calculates an additional 12,520 full-time-equivalent direct care workers, including more than 5900 registered nurses, will be needed for nursing homes to meet the new minimum standards.
The study, Australia's Aged Care Sector: Mid-Year Report 2022–23, paints a grim picture of the financial sustainability of aged care as at December, adding its weight to the consideration of more consumer co-contributions to the cost of care, one of the matters under consideration by the Government's new Aged Care Sustainability Taskforce.
"The sector's long-term sustainability has reached a critical point," it says, noting two in three nursing home providers are operating at a loss.
"There is widespread support for rebalancing the contributions so that those with the financial capacity to pay make fair contributions to the cost of the services they receive."
The new staffing requirements have been blamed for recent nursing home closures, but Aged Care Minister Anika Wells has said no homes will be closed solely on the basis of staff shortages.
FULL STORY
Just one in 10 nursing homes meeting care time rules (Stephen Lunn and Jess Malcolm, The Australian)