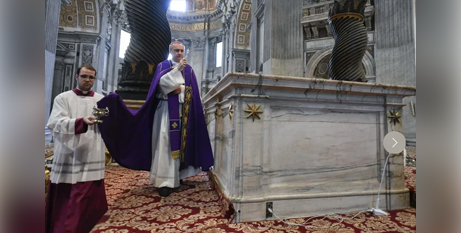 Two days after a naked man stood on the high altar of St Peter's Basilica in a shocking security breach, the basilica's archpriest on Saturday held a penitential rite as required by canon law in cases where sacred places have been desecrated. Source: CNA.
Vatican News reported that the unidentified man was a Polish national who approached the high altar on June 1 as the basilica was about to close. He quickly undressed and climbed onto the altar. Photos posted online showed the words "Save children of Ukraine" written in marker on his back.
"As officers of the Vatican Gendarmerie approached, the man did not resist but cooperated as they led him to the police station inside the Vatican," the Vatican News report said. "After ascertaining his identity, the man was handed over to the Italian police, according to the Italy-Holy See Treaty, and was issued an expulsion order and instructed to leave Italian territory."
Cardinal Mauro Gambetti, the basilica's archpriest, led the penitential rite on Saturday. Canons of the Chapter of the Papal Basilica of St Peter's and several members of the faithful also participated, Vatican News reported.
According to a report by ACI Prensa, during the act of reparation, the cardinal said, "It is the structure of sin that conditions the hearts and minds of people" and it was this "structure of sin" that pushed the man "to make an inappropriate and deplorable gesture".
After praying the Creed, the cardinal blessed the water and later spread it on the altar as a sign of purification. Later, two religious sisters dressed the altar with a tablecloth, candles, flowers, and a crucifix.
FULL STORY
Penitential rite held after naked man stands on St. Peter's Basilica's main altar (By Shannon Mullen, CNA)