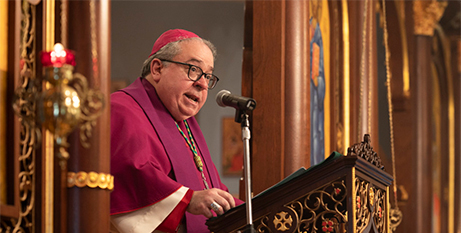 The Vatican has declared a Texas bishop to be the "pontifical commissary" of a Carmelite monastery, giving him "full governing powers" over the cloistered community. Source: OSV News.
The Holy See issued a decree on May 31 giving Bishop Michael Olson of Fort Worth Diocese governing powers over the Monastery of St Joseph of the Discalced Carmelite Nuns in Arlington, Texas.
The Dicastery for Institutes of Consecrated Life and Societies of Apostolic Life decree was published on the website of the Diocese of Fort Worth.
This role, the decree says, gives Bishop Olson "the faculty to appoint, if necessary, the nuns to assume the roles of overseer of the community members, legal representative, treasurer, etc." The decree states that the dicastery made its declaration "after careful consideration of the particular situation" regarding the nuns in Arlington, Texas.
In an accompanying statement on May 31, the Fort Worth Diocese said the decree "is in response to the challenge to Bishop Olson's authority to conduct an investigation into the violations of the sixth commandment of the Decalogue and the vow of chastity by the Reverend Mother Teresa Agnes (Gerlach) of Jesus Crucified, OCD, prioress of the Monastery in Arlington, Texas."
The decree was made after the reverend mother sued the bishop and the Diocese of Fort Worth following the bishop's launch of an investigation into allegations against her. The lawsuit accused Bishop Olson of overstepping his ecclesiastical authority by initiating the investigation.
In an affidavit dated May 10, the Reverend Mother said the monastery was an "institution of pontifical right".
"We are and have never been under the control of the Bishop of the local Diocese: we answer directly to the Pope," she said.
On June 1, Bishop Olson issued another decree, dismissing the superior from the Carmelite order after finding her guilty of violating the Sixth Commandment and her vow of chastity, which she denies.
FULL STORY
Vatican gives Texas bishop 'full governing powers' over Carmelite convent (OSV News via NCR Online)
UPDATE: Texas Bishop Dismisses Religious Superior From Carmelite Order, Alleging Sexual Sin, Which She Denies (OSV News)