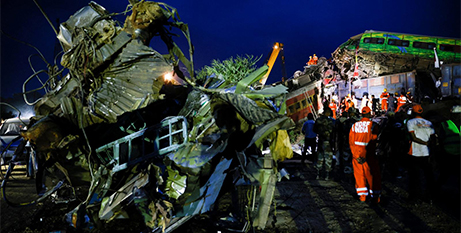 In the wake of one of the deadliest train crashes in India's history, in which at least 288 people were killed and more than 1000 injured, the local Catholic diocese has plunged into rescue and relief operations. Source: Crux.
"The response from the Church side was immediate, as priests and parishioners in and around Balasore got actively involved with the rescue operations," said Father Roy Kochupurackal, Director of Social services for Belasore Diocese, located in the eastern Indian state of Odisha where the crash occurred.
The crash happened on Friday, June 2, when the Coromandel Express and the Bengaluru- Howrah Superfast Express collided at Balasore. A goods train was also involved in the accident.
According to media reports, an error in a passenger train's electronic signalling system caused it to switch tracks and ram another train, which derailed. Together, the two trains were carrying 2296 people when they collided.
Church personnel from the Balasore Social Service Society began directing the victims for surgeries, providing trauma care and also connecting the wounded with their families as many were from outside the state. Food and water were also provided to survivors.
"Our staff admitted survivors in the emergency ward and immediately responded with medical treatment through the night and helped in shifting some wounded to other nearby hospitals," said Fr Peter Mons Arakkal, director of the Jyoti Hospital managed by the Balasore Diocese.
"In the morning, I took my nursing staff to the site to help with medical treatments. Besides hundreds of local people, mostly young people, have queued up to donate blood for the accident victims," Fr Arakkal said.
Although Catholics represent only 1.6 percent of India's population, the Church has long been known in the country for the extensive network of hospitals, schools and other social service facilities it operates.
FULL STORY
Catholics scramble to provide rescue, relief to India train crash victims (By Nirmala Carvalho, Crux)