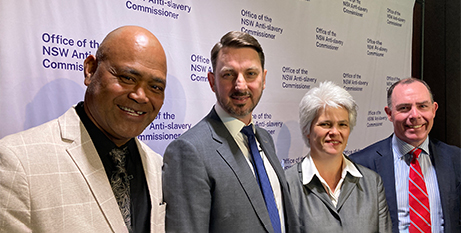 New South Wales Anti-slavery Commissioner James Cockayne yesterday launched his three-year strategic plan to combat modern slavery. Source: Australian Catholic Anti-slavery Network.
The "Working Together for Real Freedom" strategic plan was launched at NSW Parliament House.
Dr Cockayne also announced an inaugural advisory panel that includes Australian Catholic Anti-slavery Network program manager Jenny Stanger and Luke Geary, Domus 8.7 committee member and partner at Mills Oakley Lawyers.
"I'm honoured to have been appointed to the advisory panel. The plan creates targeted opportunities for action at the local level with an approach that puts survivors at the centre," Ms Stanger said.
"ACAN education, health, finance and community organisations are important stakeholders in this New South Wales initiative which will have impact nationwide."
It is estimated that 16,400 people are experiencing modern slavery in NSW and 41,000 are experiencing modern slavery in Australia.
Launching the plan, Dr Cockayne said modern slavery may "seem like a foreign concept to many, but modern slavery is all around us".
"Everyone has a human right to be free from slavery, but right now there are thousands of people being robbed of that right here in NSW," he said.
The strategic plan was developed through extensive consultation with experts, stakeholders and survivors of modern slavery. More than 2500 people contributed to the consultation process between September 2022 and May 2023.
NSW Attorney-General Michael Daley said NSW is the "first jurisdiction in the world to have a Parliamentary Standing Committee on modern slavery".
"When it comes to modern slavery, we are all united, regardless of our political colours," he said.
FULL STORY
NSW Anti-slavery Commissioner Announces Strategic Plan (ACAN)
RELATED COVERAGE
NSW steps up to help Australia's 41,000 modern slaves (Canberra Times)

Modern slavery is on the rise in Australia. Here's how this state plans to combat it (SBS News)