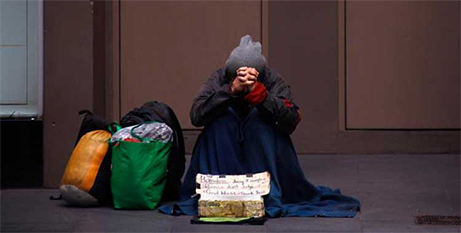 The housing and cost-of-living crises have seen a 34 per cent increase in rough sleepers in the past year, with Vinnies saying almost a third of those seeking help are doing so for the first time. Source: ABC News.
The 2023 NSW Street Count published today found that Byron Bay overtook the City of Sydney for the first time, accounting for the largest group of people experiencing homelessness in the state.
Vinnies NSW CEO Yolanda Saiz told a homeless memorial service in Sydney last night that the charity had seen an eight per cent rise in people seeking help – almost a third for the first time. Half of all recipients were struggling with the cost of housing.
"We have seen a growing number of people reach out for assistance, many of these for the first time," Ms Saiz said.
"The rising cost of living combined with the brutal housing and rental market means people are being pushed to the very margins of society with no way out."
About 200 rough sleepers, charity workers, and members of the public gathered in Sydney last night, the longest night of the year, for a vigil to honour rough sleepers who have died.
The organisers of the Homelessness Memorial Service, which include the End Street Sleeping Collaboration and Wesley Mission, called on the Government to create a protocol to prevent deaths during extreme weather events.
"We're asking for plans to be put together, resources to be committed, and when those code red or code blue alerts are given, that there is support given to … rough sleepers when they need it," End Street Sleeping Director Dominic Sullivan said.
FULL STORY
Warnings deaths among rough sleepers could rise as cold weather and housing crisis bite (By Sean Tarek Goodwin, ABC News)