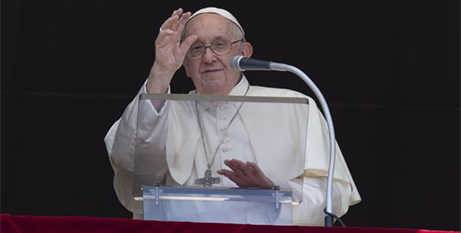 Pope Francis has urged Christians not to be afraid of suffering criticism, economic loss and persecution for being faithful to what the Church teaches. Source: CNA.
"There is a cost to remain faithful to what counts. The cost is going against the tide, freeing oneself from being conditioned by popular opinion, being separated from those who 'follow the current,'" Pope Francis said yesterday.
In his Sunday Angelus address, the Pope underlined how Jesus' words "do not be afraid" still apply today. He reflected in particular on Jesus' warning in the Gospel of Matthew: "Do not be afraid of those who kill the body but cannot kill the soul; rather, be afraid of the one who can destroy both soul and body in Gehenna".
Pope Francis said: "It was like saying: You do not need so much to be afraid of suffering misunderstanding and criticism, of losing prestige and economic advantages to remain faithful to the Gospel, but of wasting your existence in the pursuit of trivial things that do not fill life with meaning."
He said Jesus' warning means that the only true fear one should have is of throwing one's life away chasing things that do not ultimately matter.
The Pope gave the example of a priest or religious sister who dedicates his or her time to service, while forgetting to dedicate time to being with Jesus, falling into spiritual worldliness, or parents who spend all their time working to provide for their family without spending enough time with their children.
He added that young people can also get so caught up in sport, school, social media, and their phones that they focus too much of their time on "passing things."
"What matters is not to throw away the greatest good: life. This is the only thing that should frighten us," he added.
FULL STORY
Pope Francis: Do not be afraid to suffer criticism or economic loss to be faithful to the Gospel (By Courtney Mares, CNA)