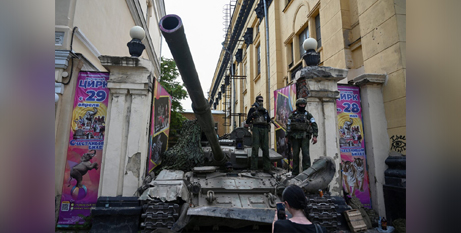 While the head of Russia's Orthodox Church backed President Vladimir Putin's attempts to put down a military rebellion, a Catholic bishop in Ukraine warned current events presented "both hope and danger" for his own country. Source: OSV News.
"Today, when our brothers are fighting and dying on the fronts, selflessly fulfilling their duty, and when the enemies are making every effort to destroy Russia, any attempt to sow discord in our country is the greatest crime, with no justification," Patriarch Kirill said in a national message on Saturday.
The Orthodox leader spoke as troops from the Wagner Group, a mercenary force, were advancing toward Moscow, after seizing the strategic southern city of Rostov-on-Don.
The Wagner Group was poised to launch a coup on the Russian military but it was called off after the president of Belarus got involved and the situation appears to have calmed, ABC News reported.
Belarusian President Alexander Lukashenko said he'd struck a deal with Wagner Group leader Yevgeny Prigozhin, who agreed to de-escalate the situation. Mr Prigozhin said his forces would return to base in order to avoid bloodshed.
A Catholic bishop in Ukraine told OSV News that the Wagner Group's forces could represent an even worse threat to his country and he urged Catholics worldwide to pray God would "lead events in a good direction."
"We are in shock — no one foresaw such a turn of events, just as no one expected war a year ago," Auxiliary Bishop Jan Sobilo of Kharkiv-Zaporizhzhya said in an interview on Saturday as the Wagner forces were advancing on Moscow.
Bishop Sobilo said the attempted coup presented "grave dangers of destabilisation — and where there's destabilisation, unforeseen processes could be set in motion."
FULL STORY
Putin threatens 'brutal' response to Wagner Group military rebellion (by Jonathan Luxmoore, OSV News)
What happened in Russia? Here's how the Wagner Group's mutiny unfolded over the weekend (By Dannielle Maguire, ABC News)