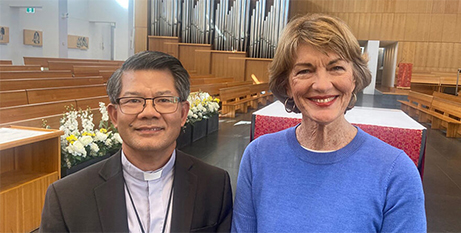 Parramatta Bishop Vincent Long OFM Conv has featured in the latest episode of ABC TV's religion and ethics show Compass, in an episode titled Sacred Space – The Franciscan of Parramatta. Source: Catholic Outlook.
In the episode, host Geraldine Doogue (who invited Bishop Long to be part of the show) visits Bishop Long's own "sacred space" – his mother's garden – where he has created a fun topiary garden of animals facing a cross in the tradition of the philosopher Teilhard de Chardin. Bishop Long explains "gardening is a great spiritual therapy for me".
In his interview with Doogue, Bishop Long talks about his escape from Vietnam in an overcrowded boat, a frightening and dangerous experience with his infant niece, nephew and sister-in-law.
The producers and Bishop Long visit the celebrations at the shrine of Our Lady of La Vang in Keysborough, Victoria, which Bishop Long helped create during his time as an auxiliary bishop in Melbourne. He explains the chapel is designed in the shape of a boat, with stained glass windows that reflect the refugee heritage of many of the Vietnamese people in Victoria.
In Parramatta, Bishop Long explains the origins of the now annual Iftar dinner, which he instigated as a way of reaching out to the local Muslim community to create understanding between religious communities following the terrorist shootings at Parramatta Police Headquarters in 2015.
He speaks candidly about the challenges he has faced due to his leadership approach, as well as his appearance at the Royal Commission into Institutional Responses to Child Sexual Abuse in 2017, during which he disclosed his own experience of clerical abuse as a young man.
Sacred Space – the Franciscan of Parramatta is streaming now on ABC iView.
FULL STORY
Bishop Vincent and Parramatta Church life feature on ABC Compass show (By Christina Gretton, Catholic Outlook)