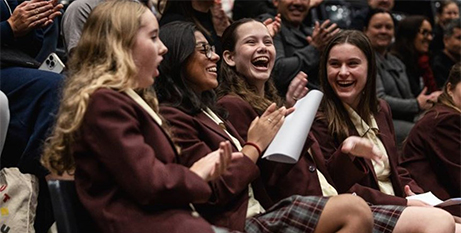 Property moguls of the future at St Pius X High School in the Newcastle suburb of Adamstown have proved no challenge is out of reach for a group of dedicated girl bosses. Source: MNnews.Today.
As part of the Property Council of Australia's Girls in Property program, more than 200 Year 9 students from 15 schools are challenged to develop real-life projects to meet a community need.
St Pius X students Anika Boettcher, Kyah Nowland, Emily Turney and Saniya Shaji blew the judges away with an innovative home designed to accommodate larger Indigenous households in East Arnhem Land.
"We're pretty proud of what we've accomplished so far," Anika said. "We wanted to make it modern, we wanted it to have a big and spacious area. It had to be spacious, it had to cater to eight adults and seven children.
"As a girl in high school who has no clue what she wants to do when she leaves, I think it has definitely broadened my mind to other opportunities."
The program is designed to grow the number of women in the property industry and give students a taste of what it's like to work in the sector.
Urbis research from 2017 and 2018 found that after taking part in the program, girls were more likely to identify non-traditional jobs in property as potential career options.
The group had to take into account the climate in the Northern Territory, materials for housing and cultural considerations.
St Pius X ministry coordinator Amanda Mohr said the aim of the project is to demystify what property is.
"The idea is to break down that stereotype and make sure they are aware of all the different opportunities they can have within their careers and give them some exposure to those 21st-century skills," she said.
FULL STORY
Girls in Property program encourages women in industry (MNnews.Today)