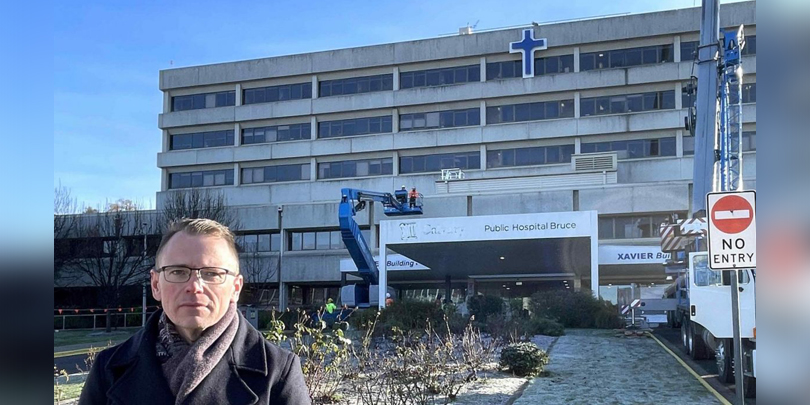 As the sun rose over Calvary Public Hospital Bruce for the last time yesterday, Calvary's ACT regional chief Ross Hawkins said despite the difficult time, the organisation's commitment to the community would never falter. Source: Catholic Voice.
"Today is very sad," Mr Hawkins said ahead of today's rebranding of the hospital as the North Canberra Hospital, following its forced takeover by the ACT Government.
"Calvary has acted with integrity, and while we completely disagree with what the ACT Government has done, we will continue to act with integrity to ensure this transition is as smooth as possible for our people."
Mr Hawkins said the iconic blue cross, which was taken down early yesterday morning, had been a source of solace and support for those who entered the hospital.
The large cross, the statue at the hospital entrance and the staff memorial stones in the front garden will be placed into storage.
Mr Hawkins reassured Canberrans that Calvary remained dedicated to the people of the region.
"We are not abandoning the ACT – we are absolutely still here," he said.
"We are committed to this community, and while it is a real shame we have lost this wonderful facility, we are not going anywhere."
On Saturday, the hospital courtyard overflowed as staff, families and friends gathered to farewell Calvary with a final picnic.
As Archbishop Christopher Prowse blessed Calvary for the final time, he thanked staff and acknowledged that it has been a traumatic time for many.
"You are so proudly part of this place, and these few days and this next couple of months are going to be possibly a bumpy ride, but I know in the years ahead – regardless of whether crosses are coming down and the Calvary logo goes – that you will carry the genius of the Calvary insight into humanity and to healthcare wherever you go," Archbishop Prowse said.
FULLS TORY
Calvary's iconic blue cross removed (By Veronika Cox, Catholic Voice)
Staff, families and friends gather to farewell Calvary (By Veronika Cox, Catholic Voice)
RELATED COVERAGE
Calvary Public Hospital Bruce officially becomes North Canberra Hospital (Canberra Times)