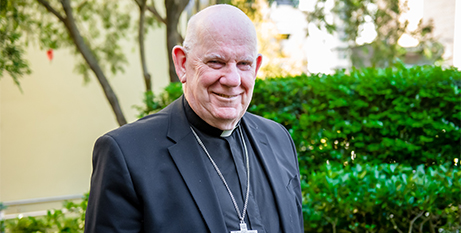 Pope Francis has accepted the resignation of Bunbury Bishop Gerard Holohan, who led the regional West Australian diocese for more than 20 years. Source: Perth Archdiocese.
Bishop Holohan offered his resignation to the Pope when he turned 75 in September last year, as he was required to do by Canon Law. Some nine months later, the Pope has accepted the bishop's resignation.
The Pope has appointed Perth Archbishop Tim Costelloe SDB as the Apostolic Administrator of Bunbury Diocese until a new bishop is appointed.
Both the retirement of Bishop Holohan and the appointment of Archbishop Costelloe are effective immediately.
Archbishop Costelloe continues in his role as Archbishop of Perth, as president of the Australian Catholic Bishops Conference, and as a member of the preparatory commission for the forthcoming Synod of Bishops.
Bishop Holohan was born and baptised on September 5, 1947. He entered St Charles Seminary, Guildford, Western Australia, in 1965 for his philosophical studies, and St Francis Xavier Seminary, Adelaide, in 1968 to study theology. He was ordained to the priesthood for Perth Archdiocese on September 4, 1971.
In 1981, he was appointed director of religious education, a position that led him to serve eventually in that role in the dioceses of Perth, Geraldton, Bunbury and Broome. From then, his interest and responsibilities extended to all levels of education, including tertiary education.
Bishop Holohan has served on both state and national education bodies, including the Catholic Education Commission and the Catholic Institute Council of Western Australia. He is a former governor of the University of Notre Dame Australia.
He was appointed the fourth Bishop of Bunbury by Pope John Paul II in 2001, and he was ordained bishop on September 5, 2001.
FULL STORY
Communications Update Diocese of Bunbury (Perth Archdiocese)
Bishop Holohan biography (Bunbury Archdiocese)