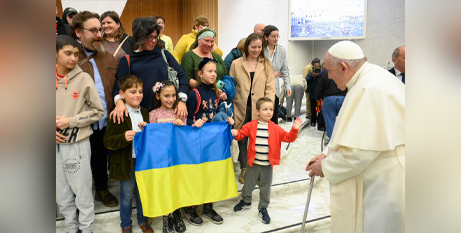 Donations to the annual Peter's Pence collection, which supports the work of the Roman Curia and funds the charitable activity of the Pope, were down in 2022, but the amount of money the fund distributed increased significantly thanks to the proceeds of property sales, the Vatican said. Source: CNS.
Overall, "in 2022 Peter's Pence income amounted to 107 million euros ($A174m)," the Vatican said. And the fund spent 95.5m euros ($156m) to support the work of the offices of the Holy See and the apostolic nunciatures around the world and to fund emergency aid to Ukraine and other countries facing devastation as well as to support the mission of local churches in need.
The Vatican press office released the report on the 2022 activity of Peter's Pence on Friday, the day after the feast of Sts Peter and Paul when the 2023 collection began in parishes and dioceses around the world.
Dioceses, foundations, private donors and religious orders – in that order – gave a total of 43.5m euros ($71m) to Peter's Pence in 2022, the report said. In comparison, the amount of direct donations in 2021 was 44.4m euros ($72.6m).
In 2022 Peter's Pence also benefited from 63.5m euros ($A103m) from "financial and other" income, the report said, explaining that "during 2022 a significant capital gain was achieved, thanks to the sale of real estate assets assigned to Peter's Pence Fund."
FULL STORY
Aid to Ukrainians tops charity funded by Peter's Pence in 2022 (By Cindy Wooden, CNS via NCR Online)