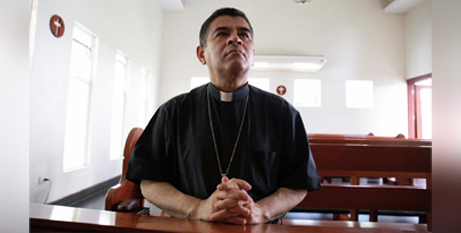 Nicaraguan Bishop Rolando José Álvarez Lagos has been sent back to prison after negotiations between the Nicaraguan bishops and the government of dictator Daniel Ortega broke down, Nicaraguan news sources reported. Source: CNA.
According to ACI Prensa, CNA's Spanish language news partner, Bishop Álvarez, bishop of the Diocese of Matagalpa, in Managua, was released on Monday but returned to custody on Wednesday, July 5, after he refused to comply with the Ortega regime's demand that he go into exile.
Following his Monday release Álvarez had been sheltered at the headquarters of the Nicaraguan Bishops Conference (Conferencia Episcopal de Nicaragua, CEN) in the nation's capital city Managua, according to Reuters.
On July 5, the Nicaraguan news agency Divergentes reported that CEN and the Vatican were negotiating with the Ortega government on Bishop Álvarez's behalf.
Nicaraguan human rights activist Bianca Jagger said in a July 4 tweet that she was informed the regime intended to exile Bishop Álvarez to Rome.
Bishop Álvarez refused to be exiled unless ordered to do so by the Pope, according to exiled Auxiliary Bishop Silvio José Báez of the Archdiocese of Managua.
In a July 5 statement, Bishop Báez said that Bishop Álvarez had told him "he would not leave Nicaragua for any reason unless the Pope ordered him to do so".
"He added that it was a decision he made in conscience before God. Thus, there is nothing to negotiate," Báez said. "I know Rolando and he would never bargain away a decision of conscience that he made."
After speaking out against Ortega's ever-escalating persecution of the Catholic Church, Bishop Álvarez, 56, was arrested in 2022 and subsequently sentenced on February 10 after refusing to board a plane carrying 222 political dissidents, including four priests, who were flown to the US in an agreement with the US State Department.
He was sentenced to 26 years and 4 months in prison on treason charges and had his Nicaraguan citizenship revoked.
FULL STORY
Bishop Alvarez sent back to prison after talks with Nicaraguan dictatorship break down (By Peter Pinedo, CNA)