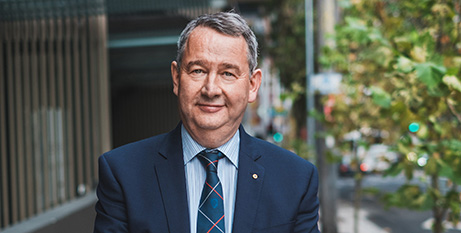 Constitutional lawyer and prominent Yes campaigner Greg Craven says he's "beside myself with rage" after one of his quotes criticising the Government's preferred model for an Indigenous Voice to Parliament was used in the official No pamphlet. Source: The Australian.
Professor Craven said he would now formally lodge a complaint with the Australian Electoral Commission against No material quoting him, after the former Australian Catholic University vice-chancellor communicated with Peter Dutton's office before the pamphlet was released expressing his "extreme opposition" to his words being used as part of the No campaign.
"I am beside myself with rage. I've never found myself in worse company," he said of the No pamphlet.
"Putting those words up effectively without any acknowledgment that I've consistently said I'll support and campaign for the Voice is simply deceptive."
The No pamphlet states: "In the words of a constitutional law professor who supports the Voice: 'I think it's fatally flawed because what it does is retain the full range of review of executive action. This means the voice can comment on everything from submarines to parking tickets … We will have regular judicial interventions.' (Professor Greg Craven AO)."
The comments were made by Professor Craven in March, as he was arguing the Government's proposal should be amended to clarify it would be up to Parliament to decide what obligations the executive government has to consider and respond to the Voice's representations.
Opposition Indigenous Australians spokeswoman Jacinta Nampijinpa Price, who was the authorised chair of the No case put in the pamphlet, said Professor Craven had some very pertinent concerns early in the conversation about the voice.
"It's only right that we should be able to promote those concerns that somebody on the Yes side has with this constitutional change," she said.
FULL STORY
Greg Craven 'beside myself with rage' after Indigenous voice to parliament No pamphlet quotes him (By Rose Lewis, The Australian)