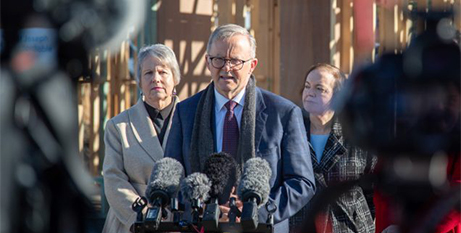 The Albanese Government has released an exposure draft of a bill proposing new legislation to censor "misinformation" and "disinformation" on digital platforms. Source: Hobart Archdiocese.
Government entities would be exempted from the proposed new laws, and government accredited educational providers.
Exemptions would also apply to professional news content and content created for entertainment purposes, however no exemption would be made for online content published by religious or faith-based organisations.
The Communications Legislation Amendment (Combatting Misinformation and Disinformation) Bill 2023 identifies "misinformation" as misleading or false content that causes "harm".
It stipulates that "harm" includes "hatred against a group in Australian society on the basis of ethnicity, nationality, race, gender, sexual orientation, age, religion or physical or mental disability", "harm to the health of Australians", and "harm to the Australian environment".
It is not clear however what type of content might constitute "harm" or be considered "hatred".
The bill seeks to grant new powers to the Australian Communications and Media Authority (ACMA) so that the independent body could oversee a self-regulatory system where digital platform providers such as Facebook and Twitter would monitor, address, and report on "misinformation" or "disinformation" on their own platforms.
ACMA would have the power to apply sanctions to digital platforms not complying with the requirements, including imprisonment.
The Government is seeking feedback on the exposure draft and will accept submissions until midnight on August 6.
The draft bill can be read at: www.infrastructure.gov.au
FULL STORY
No exemption for religious organisations in Government censorship bill (By Catherine Sheehan, Hobart Archdiocese)