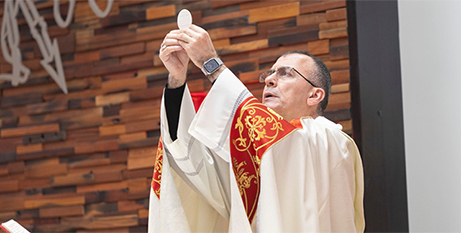 Chaldean Catholics in Australia will fast and pray this Friday for the protection of their Church's leader, Patriarch Cardinal Louis Sako, who has been forced from office by the Iraqi Government. Source: The Catholic Leader.
Cardinal Sako has announced he will be forced to retire from the Patriarchal See in Baghdad and will move to a monastery in Erbil in Iraqi Kurdistan.
The move is largely due to the actions of Babylon Brigades, a pro-Iranian "Christian" militia, as well as the Iraqi Government's withdrawal of its recognition of the office of the patriarch.
In a statement issued on July 15, Cardinal Sako described a decree withdrawing recognition – imposed personally by Iraqi President Abdul Rashid – as "unprecedented" and "unfair".
The leader of Catholic Chaldeans in Australia, Archbishop Amel Shamon Nona, has called for fasting and prayers on Friday "for the intention of our Church, our Patriarch and all the faithful, especially those in Iraq".
"We pray in all the churches in our diocese and fast on that day, asking the Lord for his mercy and blessing, seeking his tender protection to keep our Church safe from any evil with the intercession of Mother Mary and the patron of our Chaldean Church, St Thomas the Apostle," he wrote on the St Thomas Facebook page.
The Iraqi Government repealed Decree 147 on July 3, cancelling recognition of the pontifical appointment of Cardinal Sako as the head of the Chaldean Catholic Church.
Decree 147 has recognised the authority of the Chaldean patriarch since it was instilled by the previous administration of Jalal Talabani, in 2013.
The decree's repeal came after a campaign against the patriarch by the Babylon Brigades, described by the cardinal as particularly "deliberate and humiliating."
FULL STORY
Fasting and prayers for protection of Chaldean patriarch (By Mark Bowling, The Catholic Leader)