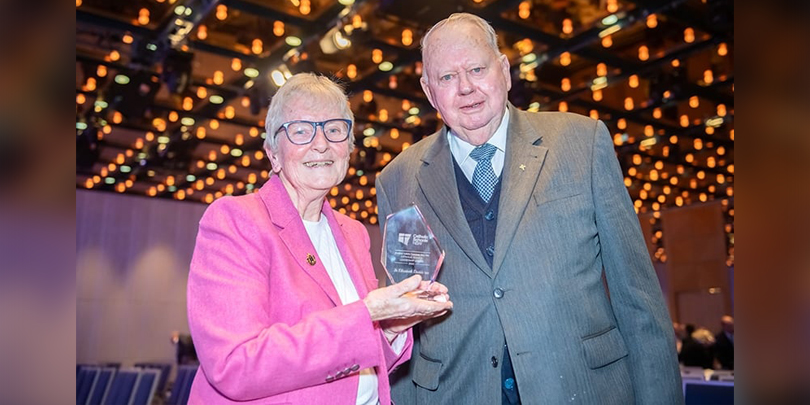 Sr Elizabeth Dodds RSC has been recognised for her exceptional contribution to Catholic education, receiving the Brother Kelvin Canavan Catholic School Leadership Award at the Catholic Schools NSW education law symposium. Source: The Catholic Weekly.
Sr Elizabeth's life has been one of service to others. Formerly a teacher and principal in secondary Catholic schools in NSW and Victoria, she was also the director of Edmund Rice Education Directorate in Queensland and the Northern Territory.
She also served for eight years as a National Catholic Education Commissioner and chair of the NCEC's faith formation and religious education standing committee.
In accepting the award, Sr Elizabeth thanked her family, her congregation, the Sisters of Charity and all who had encouraged her in the ministry of education.
"The cultural context of Catholic education in this country and globally has changed constantly over the past decades; we meet its challenges with fidelity and the values of the Gospel, with resilience and immersed in mission, the mission of God," she said.
"Leadership demands vision, leaders then must live the vision. This isn't done alone. The vision is caught by others and the ripple effect starts. Without dialogue and collaboration with other colleagues, vision dies."
In presenting the award, Emeritus Professor Anne Cummins said Sr Elizabeth maintains a connection with the Australian Catholic religious against trafficking of humans and also takes a keen interest in ecological conversion in the spirit of Laudato Si'.
"Sr Elizabeth has made valuable contributions to the governance of many Catholic ministries. She is truly a wise and experienced elder of our profession."
FULL STORY
Sr Elizabeth awarded for education (The Catholic Weekly)