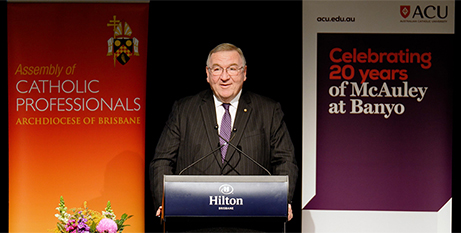 Australian Catholic University chancellor Martin Daubney says the development of artificial intelligence is what keeps him up at night. Source: The Catholic Leader.
Mr Daubney told more than 200 members of the Assembly of Catholic Professionals in Brisbane on Wednesday that the past few months had seen the unbridled and unaudited development of AI.
While acknowledging the potential benefits of AI for humanity, he warned of the poorly understood risks that could pose an existential threat to humanity.
He said a recent statement by 350 leading AI researchers, engineers, and business leaders emphasised the need to prioritise mitigating the "existential" risks of AI.
"As Chancellor of Australian Catholic University, I'd like to see our university playing a leading role as our society plays catch up in the formulation of legal and ethical frameworks for the development and implementation of AI technologies."
Shifting gears, Mr Daubney spoke about his role at ACU and the urgent need to maintain a robust and distinct Catholic identity in the face of increasing secularism and cultural relativism.
He stressed the importance of adhering to the Catholic intellectual tradition and fostering a Christian worldview while allowing space for intellectual rigor and inclusivity.
"The simple fact of the matter is that in the society in which we have the great fortune to be part in, in contemporary Australia, Catholic scholars have made great contributions to how we understand the world, and what we value, and the truth of God, and the truth of the human person, and the things that matter to us all.
"So for Catholic educational institutions like ACU, the ongoing challenge is to continue to seek that full truth – knowing and believing in accordance with our tradition; that our faith is compatible with reason."
FULL STORY
Martin Daubney voices concerns over AI and importance of upholding Catholic identity at professional assembly (By Joe Higgins, The Catholic Leader)