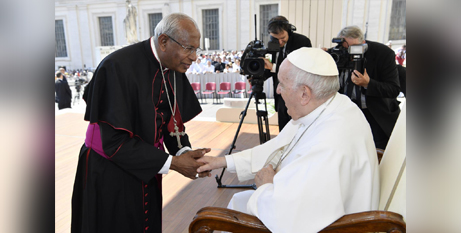 A series of decrees and disciplinary moves culminating in the firing of a cathedral vicar has failed to resolve a dispute within India's Syro-Malabar Church, as a blockade at a basilica by protesters has continued while the priest pursues a Vatican appeal. Source: Crux.
Archbishop Andrews Thazhath, the apostolic administrator of the Ernakulam-Angamaly Archdiocese, the Syro-Malabar Church's largest jurisdiction, had ordered the removal of Msgr Antony Nariculam, the vicar of St Mary's Cathedral Basilica in Ernakulam, after the priest said he was unable to comply with a decree demanding immediate implementation of a uniform method of celebrating the Mass within the Syro-Malabar tradition.
The dispute has been raging since 2021, when the Church's synod decided to adopt a uniform mode of celebrating the liturgy, in which priests are to face the people during the Liturgy of the Word and then the altar during the Liturgy of the Eucharist, turning around again to address the congregation after communion.
Clergy and laity in the Archdiocese of Ernakulam-Angamaly have rejected those changes, arguing that their custom of the priest facing the people throughout the Mass is a legitimate liturgical variation and one more consistent with the reforms of the Second Vatican Council (1962-65).
After the decision to remove Msgr Nariculam, a lay activist group called Almaya Munnettam announced what they called a "Campaign for Justice", effectively blockading St Mary's Basilica to prevent another cleric from taking charge. The group is demanding that Mass be reintroduced according to the earlier custom of the priest facing the people.
The Almaya Munnettam group also insisted that the scope of their protests isn't just the liturgical dispute, but also a series of financial decisions made by Cardinal George Alencherry, the head of the Syro-Malabar Church, which allegedly resulted in losses to the Archdiocese of Ernakulam-Angamaly of about $US10 million.
The synod of the Syro-Malabar Church has asked the Vatican to dispatch a papal delegate to the archdiocese in an effort to resolve the difficulties.
FULL STORY
Protestors in India extend cathedral blockade over liturgical, financial disputes (By Nirmala Carvalho, Crux)