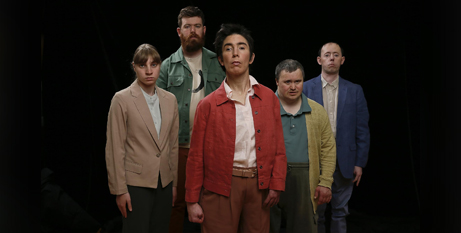 In Shadow, a group of activists hold a public meeting, desperate to save the world. As the meeting unravels, they discover the greatest threat to their future is already in the room. Source: Australian Catholics.
An Australian film, it is made by the Back-to-Back Theatre group and is based on a play that the group had developed over some years, Shadow, Whose Prey the Hunter Becomes.
The film was written and performed by the cast with disabilities, and filmed mostly by a crew with disabilities, but working with professional mentors.
The dialogue of the film was worked on by its four central characters and the development of the plot is not what audiences might expect.
Shadow focuses on men and women with disabilities and there is a lot of discussion about the nature of disability and the use of the word.
The setting is a town meeting about the future effects of artificial intelligence. But the situation is not what we expect.
The group has the intention of bettering the world – saving it. Ideals and ideas are propounded. Simon tries to manage the meeting, Scott raises all kinds of complexities, Sarah makes known her stances, Mark in the audience, smiling, focusing on his food.
The upshot of the discussion is the question about whether the world can be saved, whether this group is able to do any saving, conscious as they are of their strengths and disabilities, needing to save themselves before they can save the world.
Review by Fr Peter Malone MSC
Shadow: Australia, 2021. Starring Mark Deans, Simon Laherty, Sarah Mainwaring, Scott Price, Michael Chan, Bruce Gladwin. Directed by Bruce Gladwin. 56 minutes. Rated M (Mature themes and coarse language)
FULL REVIEW
Shadow (Australian Catholics)