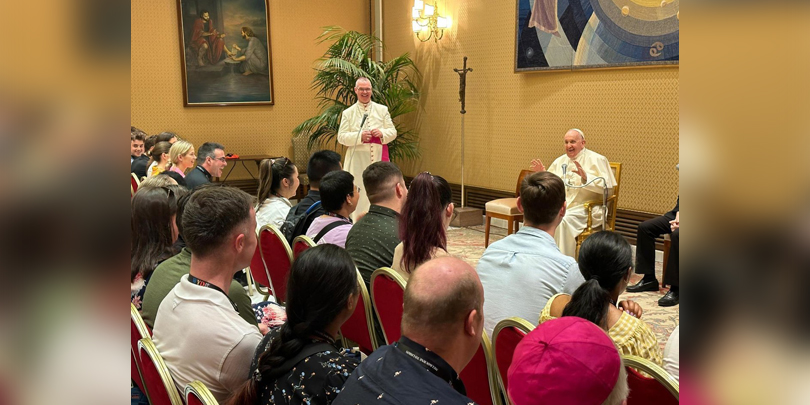 Pilgrims from Melbourne Archdiocese met Pope Francis in Rome yesterday in a special private audience as part of the lead-up to World Youth Day Lisbon. Source: Melbourne Catholic.
Pope Francis encouraged the pilgrims in their faith journey and happily answered questions on topics ranging from education to evangelisation, the environment and caring for our common home.
"I'm very happy to welcome you here and to see such courageous young people," Pope Francis said. When asked what message he wanted to get across to young people, Francis said: "The main message I want to get across is that the Lord is always by your side — always. Even in the most difficult moments, he is always with us. He never tires of walking with us!"
Melbourne Archbishop Peter A Comensoli expressed his deep gratitude to the Pope for taking the time to speak with the young Australians.
"To have the Holy Father speak with our young leaders today, to listen to their own experiences, and to encourage them in their journey of faith is a real gift," he said. "Melbourne pilgrims laughed and cried while listening to the wisdom of the Holy Father and his words of freedom, accompaniment, joy and encouragement. The Lord is good."
Music and Religious Education teacher Aaron Charles from John Paul College in Frankston was emotional after the papal audience. "It was incredibly unexpected. I asked Pope Francis what advice he had for us in being able to serve our small communities, and he said it's not about imparting an idea, but imparting a relationship … guiding your students and allowing them to make mistakes and be themselves and to grow into their own."
The Melbourne pilgrims are a few days into their pre-WYD experience in Rome, and form part of the almost 600-strong group of pilgrims from the Archdiocese heading to World Youth Day via Italy, the Holy Land, Fatima and Lourdes.
FULL STORY
'The Lord is always by your side': Pope Francis speaks with Melbourne pilgrims (Melbourne Catholic)
RELATED COVERAGE
Sydney WYD pilgrim meets Pope Francis as journey of a lifetime begins (The Catholic Weekly)