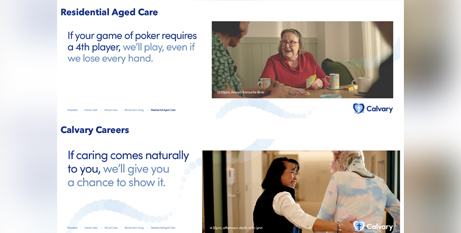 Inspirational stories told by patients, residents, clients and staff are at the heart of Calvary Health Care's new national brand campaign launched yesterday.
The campaign adopts Calvary's refreshed branding and showcases real customers, staff and locations attached to emotional "If" statements demonstrating the healthcare provider's mission of "Being for Others".
Calvary's National Director, Customer & Communications, Bryan McLoughlin, said the advertising campaign messaging was based on the Rudyard Kipling poem If and was the next exciting step in the brand refresh initiative.
"There is a real synergy between Calvary's legacy of the six courageous Sisters who sailed into Sydney in 1885 to continue the mission of Venerable Mary Potter and the Sisters of the Little Company of Mary to care for those in need and the If poem, which encourages one to be resilient in the face of adversity and to lead a virtuous life," Mr McLoughlin said.
"These stories in our campaign reflect Calvary's care from the heart positioning and showcases proudly what our values look like in practice."
The campaign will be visible across billboards, digital, print, radio and television.
Details: visit www.calvarycare.org.au.
FULL STORY
Calvary's new advertising campaign comes from the heart (Calvary)