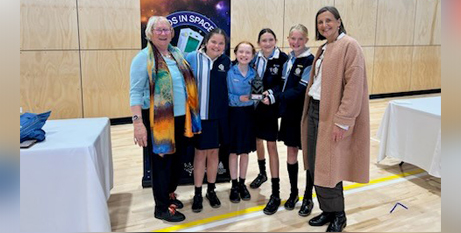 Students from Our Lady of Good Counsel School, Deepdene, will represent Victoria after winning the state final of The Andy Thomas Space Foundation's "Kids in Space" program. Source: Melbourne Archdiocese Catholic Schools.
The students will travel to Adelaide for the national final in October.
The Kids in Space program challenged students to use technologies to identify and solve problems in space, or on earth, moderated against United Nations sustainability goals.
Teams explored issues ranging from improving health and wellbeing in space to increasing safety with clever technological innovations, managing space debris and living in extreme environments.
Judges were particularly impressed with teams developing innovative solutions by comparing problems of space to planetary living and transferring solutions to the differing environments, such as applying an understanding of earth extremophiles to build better spacesuits, or using space technologies to rescue and protect endangered species on earth.
Our Lady of Good Counsel School's students explored growing healthy food in space, in low or zero gravity environments, recognising all the constraints for growth and survival.
A project by St Joseph's School, Hawthorn, took out the peer prize, being voted most popular among the students from 40 competing teams.
FULL STORY
Our Lady of Good Counsel wins Victorian Kids in Space final (MACS)