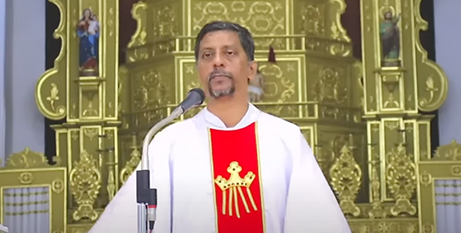 A Catholic priest in the Indian state of Goa was granted "anticipatory bail" on Tuesday after police submitted a criminal case against him for allegedly saying a Hindu king was not a god during a homily in July. Source: National Catholic Register.
Hindu groups staged demonstrations in front of the police station against Fr Bolmax Pereira, parish priest of St Francis Xavier Church in Chicalim in the Archdiocese of Goa, calling for criminal charges of "hurting Hindu sentiments" over remarks he made about a Hindu king during a Sunday Mass.
Fr Pereira was quoted in the Mass posted on YouTube saying that 17th-century Hindu king Chatrapati Shivaji "was a national hero but not a god".
Hindu nationalist groups had shared the Catholic priest's remarks on social media and carried out demonstrations demanding his arrest for offending their "religious sentiments."
The police submitted in the trial court on Tuesday that the priest was not required to be kept in custody and the court accepted the priest's plea for "anticipatory bail" in the case against him. As many as four cases related to the same incident have been registered against Fr Pereira in four different police stations in Goa.
"Anticipatory bail" in the Indian legal system allows the accused to be released from police custody even if arrested for an alleged crime. In Fr Pereira's case, the court ruled that in the event he is arrested for the crime, he is to be released on a bond of 20,000 rupees (A$368) and a surety. 
FULL STORY
Hindu Nationals Demand Arrest of Catholic Priest in India for Saying King Was Not a God (National Catholic Register).