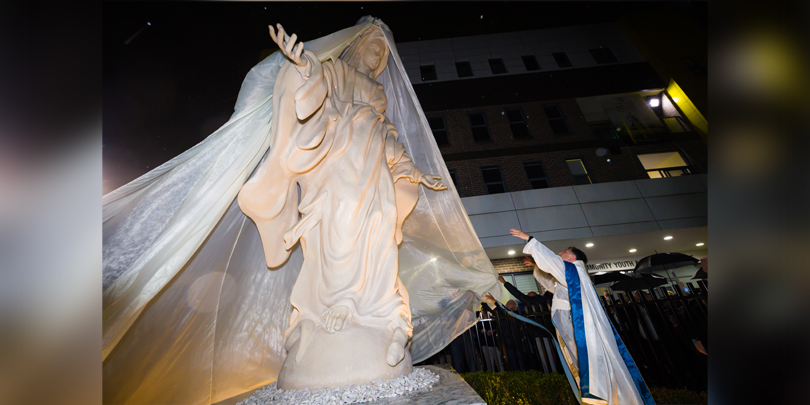 The Maronite Eparchy of Australia, New Zealand and Oceania yesterday celebrated the Feast of the Assumption with the Divine Liturgy and the unveiling of a new statue at Our Lady of Lebanon Co-Cathedral in Harris Park, western Sydney.
The Feast Mass, which this year holds a unique significance as it falls within the Golden Jubilee Year of the Maronite Eparchy in Australia, took place in the presence of the relics of the Maronite and Australian saints in the Golden Jubilee reliquary, and preceded the official unveiling, lighting and blessing of the new statue of Our Lady of Lebanon.
The statue, a unique piece of sacred art made specifically for the parish by renowned international artist Rudy Rahme, is the realisation of a project which started in 2014 and will one day replace the existing statue atop of the co-cathedral.
"The Feast of the Assumption is the perfect time to unveil and bless the new statue of Our Lady of Lebanon," said Maronite Bishop Antoine-Charbel Tarabay.
"While the new statue can never capture the full magnificence of Our Lady, it stands as a testament to our devotion and love for her. It is also the outcome of true collaboration of a wonderful community. My deep gratitude to the clergy, the stewardship committee, the parish pastoral council, staff and volunteers and every parishioner who contributed to the project."
FULL STORY
Maronite Eparchy celebrates Feast of the Assumption, Bishop unveils and blesses new Our Lady of Lebanon Co-Cathedral statue (Maronite Eparchy)