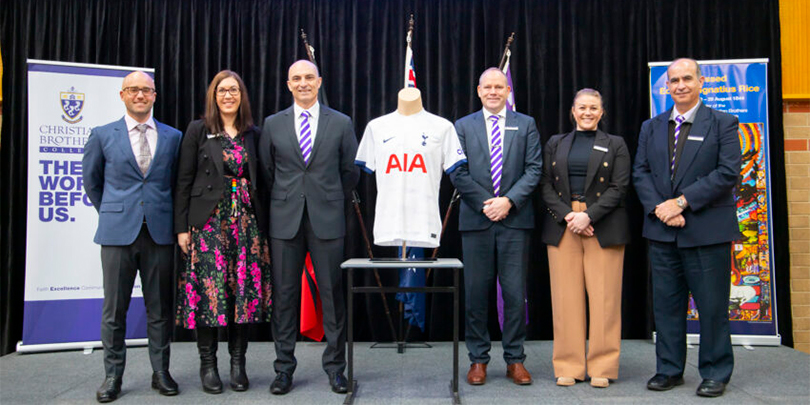 Christian Brothers College Adelaide has announced an innovative partnership with Tottenham Hotspur Football Club, one of the world's most famous soccer clubs. Source: The Southern Cross.
The partnership aims to provide CBC students with an opportunity to foster academic and soccer excellence, under the guidance of expert coaches from Tottenham Hotspur.
Embedded into the 2024 curriculum at CBC, the soccer program will be based on the Tottenham Hotspur coaching philosophy and is designed to develop students' understanding of the rules, strategies and tactics of the sport through a practical and theoretical setting.
"Our boys will get 12 weeks of specialised training by a Tottenham Hotspur coach as part of our elite soccer program starting next year – we are the only college in South Australia to have this partnership," said CBC principal David Johnston.
"We also have the opportunity to bring a select group of students over to Tottenham Hotspur in England as part of this innovative partnership."
Tottenham Hotspur will work closely with CBC to develop a higher level of excellence and skills in soccer while creating additional pathways for students on a national and international level.
Chris Acaster, head of global coaching for Tottenham Hotspur, said the club was "incredibly excited" about the partnership.
"Following our recent trip to Perth for our pre-season tour, we saw firsthand the incredible talent that is in Australia, and we look forward to working with Christian Brothers College to help support their development of players and coaches over the next three years," Mr Acaster said.
"With this partnership, CBC aims to unleash new opportunities and inspire the next generation of leaders, both on and off the field," Mr Johnston added.
FULL STORY
CBC connects with Tottenham Hotspur (By Jenny Brinkworth, The Southern Cross)