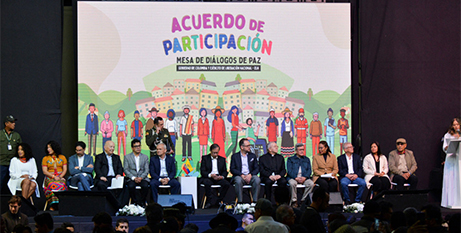 The Colombian bishops conference is training dozens of priests and lay workers on how to help monitor the truce after the nation's military and the largest remaining rebel group announced a six-month ceasefire. Source: NCR Online.
In a statement published last week, the bishops conference said that 31 representatives from 18 different dioceses were briefed on the details of the ceasefire and on international humanitarian law. The group also discussed methods that would be most suitable to report breaches of the ceasefire.
"We will take this knowledge to our territories," said Fr. Jairo Alberto Rave, from the Diocese of Barrancabermeja, "so that we can make an important contribution" to the peace process.
The truce started on August 3, and seeks to facilitate peace talks between the Colombian government and the National Liberation Army (known by its Spanish acronym, ELN,) a Marxist-oriented rebel group with approximately 2000 to 5000 fighters that is particularly influential in the west of Colombia and along its eastern border with Venezuela.
It is the longest ceasefire ever between Colombia's government and the ELN and is part of President Gustavo Petro's plans to pacify rural areas of the country that are still affected by violence waged by rebel groups and drug cartels that were not part of a 2016 peace deal between the Colombian government and the FARC guerrilla group.
The Church has been present at the peace talks through Bishop Héctor Fabio Henao, who heads the Colombian bishops conference's delegation for relations between Church and state.
Under the ceasefire, the ELN rebels and the military have promised to stop attacking each other. But they have also said they will comply with international humanitarian law, which means they must stop attacks on civilians.
FULL STORY
In Colombia, priests and lay workers will help monitor ceasefire (By Manuel Rueda, OSV News via NCR Online)