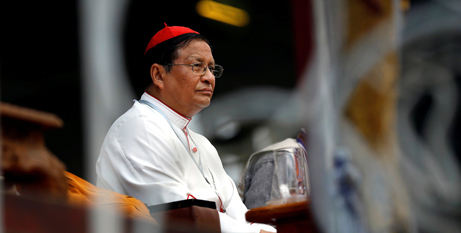 Cardinal Charles Maung Bo has renewed the Church's call for peace in Myanmar during the installation of a new bishop in the civil war-hit Southeast Asian nation where armed rebels, including Christians, are fighting against the ruling military. Source: UCA News.
Cardinal Bo, president of the Federation of Asian Bishops' Conference, urged the country's bishops to lead the people towards peace at the episcopal ordination of Bishop Henry Eikhlein of Pathein in St Peter's Cathedral in the Irrawaddy division of southern Myanmar on Friday.
"Peace is possible. The only way forward is peace, not with guns and bullets," Cardinal Bo said in his homily.
"The Catholic bishop of Myanmar today is a wounded healer," the 74-year-old cardinal noted while asserting a new bishop has to be "a peacemaker" to become the shepherd who gives "the bread of the basic needs, the bread of hope, and the bread of human security".
The cardinal earnestly urged Catholics, who make up 1 per cent of the nation's 54 million people, to pray frequently for bishops, including 64-year-old Bishop Eikhlein.
Thousands of Catholics attended the episcopal ordination where Cardinal Bo led the Eucharistic celebration along with Msgr. Andrea Ferrante, Charge d' Affairs of the Vatican to Myanmar, bishops, and priests.
Pathein diocese has not been hit by the ongoing ethnic conflict, though the dioceses of Loikaw, Pekhon, Hakha, Kalay, and Mandalay in other parts of the nation are affected.
Some of them in predominately Christian areas, have seen churches, convents, and institutions becoming the prime target of airstrikes and shelling by the ruling military junta.
The cardinal's renewed call came a day after the UN Security Council called on the military, which seized power after toppling the civilian government in February 2021, to end the violence, and expressed deep concern over civilian causalities.
FULL STORY
Church renews calls for peace in Myanmar (UCA News)