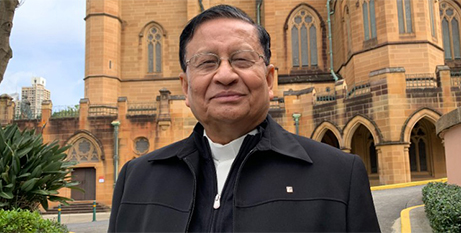 As the annual Season of Creation began on September 1, Church leaders around the world called for ecological justice. Source: The Tablet.
Myanmar's Cardinal Charles Maung Bo reported that ecological injustice "has robbed food from the plates of millions of children in poor countries and snatched water from their thirsty mouths".
Cardinal Bo, president of the Federation of Asian Bishops' Conference, added that "farmers have lost their seeds and forests have lost their topsoil". He described poor countries as being "strangled with an existential crisis".
The 74-year-old cardinal condemned rich nations who plunder resources from the global south and called it "horrendous injustice".
"Never in history have so many millions suffered for the egoistic enjoyment of a few," he said.
Ecumenical Patriarch Bartholomew of Constantinople made a statement deploring the ecological effects of war, saying that "every act of war is also a war against Creation".
He said there was a close connection between environmental damage and failure to respect human rights.
"The pollution of the atmosphere, of water and earth by bombings, the risk of nuclear holocaust, the emission of dangerous radiation from nuclear plants producing electrical energy, the carcinogenic dust from exploding buildings, the destruction of forests and depletion of arable agricultural property – all these bear witness to the fact that the people and ecosystem of Ukraine have undergone and continue to undergo incalculable losses," Patriarch Bartholomew said.
The chairmen of the US bishops' domestic and international policy committees last week issued a statement on water pollution, while the German bishops' conference has publicly declared its support for a "Global Climate Strike" on September 15.
FULL STORY
Church leaders demand 'ecological justice' (By Ellen Teague , Christa Pongratz-Lippitt, The Tablet)