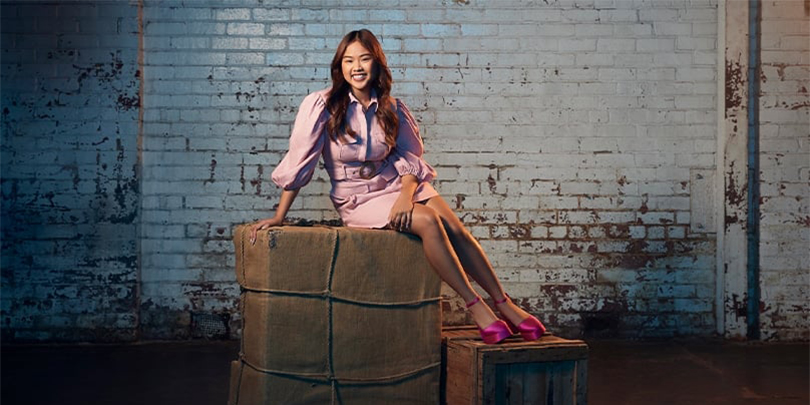 Australian Catholic University student Abigail Adriano has swapped schoolbooks for the stage after being cast in Opera Australia's Miss Saigon. Source: The Catholic Weekly.
The 18-year-old was in her second year of a Bachelor of Arts (Western Civilisation)/Bachelor of Laws at ACU when she found out she'd been cast in the show, which is her professional lead role debut.
"When I found out that I got the role of Kim, I was jumping for joy. This is a dream come true," Ms Adriano said.
She has deferred her studies to cope with the rigorous rehearsal and performance schedule and says the flexibility offered by ACU's Elite Athlete and Performer Program (EAPP) allowed her to pursue her dream of musical theatre stardom.
"When I found out that I was playing Kim, I told my parents that dreams come first so my studies will need to wait," Ms Adriano said.
"EAPP allowed me to juggle study with the audition process, which made it all possible."
Ms Adriano grew up as part of an extended Filipino family in Western Sydney, where her mother works for St Vincent de Paul and her father runs a local coffee van.
From family karaoke to singing with the choir at St John of God Catholic Church in Auburn, Ms Adriano has always enjoying performing.
"I'm at church every Sunday serving—and I wouldn't be here if it wasn't for the gift God gave me," she said. "I want to give thanks by giving my gift there first."
The musical is inspired by the opera Madame Butterfly and tells the story of a young Vietnamese woman named Kim who falls in love with an American G.I. during the Vietnam War.
Miss Saigon is one of the most successful musicals in history, having won 70 major theatre awards, including three Tony Awards and two Olivier Awards and has been performed in 15 different languages, in over 32 countries and 350 cities.
FULL STORY
Auburn chorister wins lead role in Miss Saigon (By Louise Crossen, The Catholic Weekly)