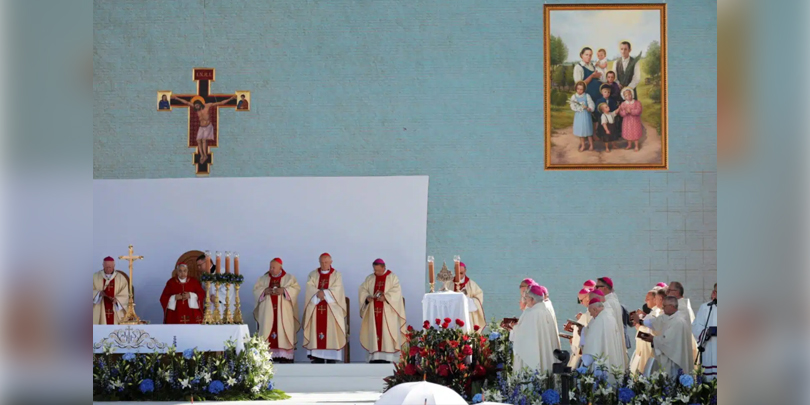 In one of the most significant moments in Polish post-war history, nine members of the Ulma family – a married couple and their small children who were executed by the Nazis during World War II for sheltering Jews – were beatified yesterday. Source: OSV News.
"I think it will only get me at night, when I come back home, because now I still can't believe it," Jerzy Ulma, nephew of Blessed Józef Ulma said.
His uncle Józef, along with wife Wiktoria and seven children: Stanislawa, Barbara, Wladyslaw, Franciszek, Antoni, Maria and a child without a name born during the martyrdom of their mother, were declared blessed by papal envoy Cardinal Marcello Semeraro in Markowa, where the Ulma family lived and died on March 24, 1944. They were killed by German occupants of Poland for giving shelter to eight Jews in their house.
"It would be a mistake if the day of the Ulma beatification would be used only to remember the terror and atrocities committed by the perpetrators," Cardinal Semeraro said in a homily. "We would like this day to be a day of joy," he said.
In 1942, Wiktoria and Józef accepted a Jewish family into their home. "Today, along with the new blessed, we would like to remember their names," Cardinal Semeraro said. They were: Saul Goldman with sons Baruch, Mechel, Joachim, Moses as well as Golda Grünfeld and Lea Didner, with little daughter Reshla," he listed.
"The gesture of Józef and Wiktoria was a sign of obedience to God's commandment," the cardinal said. "It was a 'yes' to God's will," he said, emphasising that a man "despised, rejected and mortally wounded" was welcomed to their home.
FULL STORY
As entire Ulma family beatified in Poland, pope hails them as 'ray of light in the darkness' (By Paulina Guzik, OSV News)
RELATED COVERAGE
Vatican beatifies Polish family executed by Nazis for sheltering Jews (The Guardian)