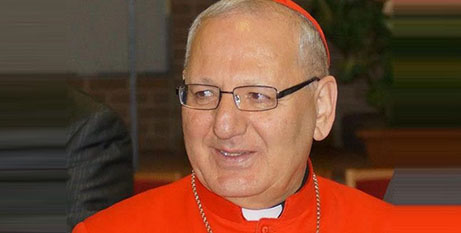 Iraq's Chaldean Catholic Cardinal Louis Sako said he would like more Vatican support as he tries to regain formal recognition as the Chaldean patriarch in the country. Source: NCR Online.
Iraqi President Abdul Latif Rashid revoked his title on July 3, which has been viewed as a usurpation of the clergyman's position as the officially recognised head of Iraq's Catholic Chaldean Church as well of his position and powers to administer the Chaldean religious endowment, including Church properties.
Both the cardinal and media in Iraq say the action was likely instigated by Rayan al-Kildani, a leader of a nominally Chaldean Catholic militia in Iraq, the Babylon Brigades, closely tied to Iran. Its political wing holds four seats in parliament out of five reserved for Christian candidates.
Critics accuse Mr al-Kildani of seeking control of Chaldean Church assets, which Cardinal Sako oversees.
Christian and Muslim religious authorities, politicians, tribal chiefs and citizens in Iraq as well as Catholic leaders abroad have condemned the move and support Cardinal Sako.
"I want the Vatican also to take a strong position," Cardinal Sako told an online press conference on Tuesday, organised by the Paris-based L'Oeuvre d'Orient, a Catholic group aiding Eastern Christian communities for over a century.
He spoke from Irbil, the capital of Iraq's northern Kurdistan region, where he has gone "in protest over the decree" made in Baghdad.
"We need to resolve this problem and defend this very old Church," Cardinal Sako said, referring to the ancient Chaldean Catholic Church, believed to have been founded by Jesus Christ's apostle Thomas in Iraq.
"We've paid a heavy price for our faith and to remain here (in Iraq) and to continue to speak up about the Christian faith very bravely," he underscored.
The majority of Iraq's Christians belong to the Chaldean Catholic Church. Christians in the country once numbered around 1.5 million, but their numbers have dwindled to some 150,000 according to the 2022 Report on International Religious Freedom by the US Department of State.
FULL STORY
Cardinal Sako appeals for Vatican support as he seeks to regain formal recognition in Iraq (By Dale Gavial, OSV News via NCR Online)