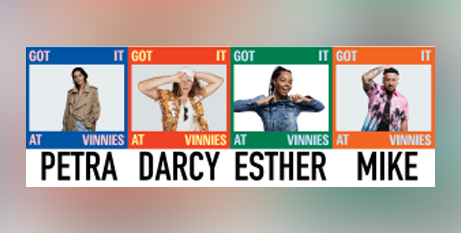 The St Vincent de Paul Society, the 168-year-old charity, is proof that you're never too old to embrace technology. Source: Mumbrella.
After the huge success of its "Got It At Vinnies" retail campaign, the second iteration has now launched, utilising TikTok and Instagram creators.
The charity is part of a wave of brands adopting the new platforms. The new campaign focuses on the diversity of Vinnies shops. It features a mix of eight TikTok and Instagram creators showing off their outfits, including Sydney-based comedian Nick White, streetwear content creator Connor McWhinnie and comedian, podcaster and creator Alright Hey (AKA Matt Hey).
"After the huge success of our 'Got It At Vinnies' campaign, we're thrilled to be running a second edition," said Virginia Boyd, acting director, retail and logistics, at Vinnies NSW.
"We observed positive trends from our winter campaign, compared to the same time the previous year.
"The main objective of the campaign is to show that there is something for everyone at Vinnies and ultimately drive people into shops," she continued. "Investment and media for the 'Got It At Vinnies' campaign will be skewed towards our younger, next generation of Vinnies shoppers and our current fashion shopper."
FULL STORY
How a 168-year-old charity embraced TikTok – and won a legion of young fans (By Lauren McNamara, Mumbrella)