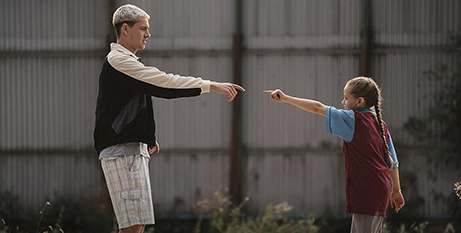 Scrapper offers up a slice of life in East London, where a smart and enterprising tween lives alone on a council estate after her mother's death, until her absent father turns up. Source: Australian Catholics.
Scrapper is a small but engaging film, especially with its central character, 12-year-old Georgie.
Georgie and her best friend and neighbour, Ali, steal bikes in the local neighbourhood and make money by selling them for scraps
Georgie is played by Lola Campbell, who has quite an extraordinary and powerful screen presence, exhibiting self-confidence and determination. She is alone following her mother's death. Then, one day, a raggedy-looking tall man arrives claiming to be her father, Jason. Georgie doesn't give him a welcoming reception but he eventually moves in with her.
So, while this is a story of a lively young girl coping with life, it is also the story of a young absent father, the pair working through their animosity, getting to know each other and, possibly, a future.
Reviewed by Fr Peter Malone MSC, Jesuit Media
Scrapper: Starring Lola Campbell, Harris Dickinson, Alin Uzun. Directed by Charlotte Regan. 85 minutes. Rated PG (Mild themes, violence and coarse language).
FULL REVIEW
Scrapper (Jesuit Media via Australian Catholics)