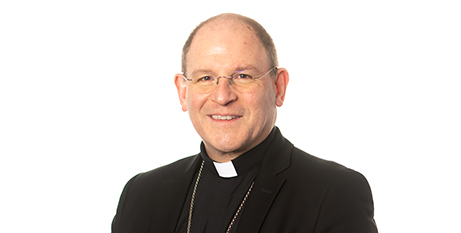 Personal and communal conversion is possible when a pastoral mission begins and ends with Jesus Christ, Broken Bay Bishop Anthony Randazzo told fellow participants in the Synod on Synodality on Monday. Source: ACBC Media Blog.
Bishop Randazzo, president of the Federation of Catholic Bishops Conferences of Oceania, celebrated Mass and preached on Monday evening as more than 350 Synod participants attended a retreat before the Synod opens on Wednesday evening Australian time.
Preaching on the Feast of the Guardian Angels, he reflected on the prayers his family prayed when he was a child, saying his parents' "efforts to model the faith by walking with me were the beginning of the synodal way in my life".
Bishop Randazzo said the day's Gospel reveals childlike faith as "the key to the kingdom of heaven".
"Childlike faith is not childish faith, which is fearful and suspicious," he said.
"Children can teach us much about life, about love and about faith in God. They can also teach us how to walk with others without judgement, or manipulation or imposition."
The childlike believer, Bishop Randazzo continued, "is the one who knows how to detach themself from their own ideas when they see that they are not formed by the truth of the Gospel; when in the light of the Gospel, they realise that opinions, ideologies, and philosophies along with strategies and plans, are simply administrative and political structures devoid of the Spirit of the Gospel.
"Childish faith seeks consensus at all costs. And yet, consensus does not lead to truth. Truth leads to consensus," he said.
"A pastoral mission, beginning and ending with Jesus Christ, will allow for personal and communal conversion, renewal and regeneration of the Body of Christ."
Bishop Randazzo is one of 15 Australians attending the Synod on Synodality. Five bishops, a priest and four lay people are voting members, while another five are serving as advisers and facilitators during the four-week assembly. The second of two assemblies will be held in October 2024.
FULL STORY
Bishop Randazzo: Conversion can be achieved through Christ (ACBC Media Blog)