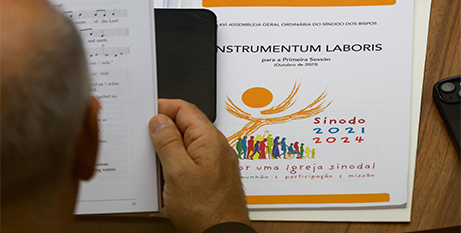 The true beauty of the Church "becomes evident when its doors are open and welcome people. We hope that the Synod will help us open them even more," United States Cardinal Joseph Tobin said yesterday. Source: Vatican News.
He was describing the theme of the second module of the Instrumentum laboris. The module is focusing on the theme: "A communion that radiates: How can we be more fully a sign and instrument of union with God and of the unity of all humanity?" which was discussed in small groups Monday afternoon and Tuesday morning.
Cardinal Tobin made the comments at a press conference yesterday on the work of the assembly, which was led by the president of the Commission for Information, Paolo Ruffini, prefect of the Dicastery for Communication.
In the small working groups, participants in the General Assembly discussed education, the environment, multiculturalism and walking with the marginalised and migrants. On Monday, they elected the members of the Commission for the Synthesis Report and those of the Commission.
Sandhurst Bishop Shane Mackinlay was elected by his fellow Synod participants to be on the report writing commission, CNA reported.
Responding to journalists' questions, Dr Ruffini said that at this Synod, members have many more opportunities to speak, especially in the small groups.
"There is a great sharing among all the participants, according to my personal experience," he said, "which began with the pre-synodal retreat."
Sr Gloria Liliana Franco Echeverri, a Colombian religious of the Order of the Company of Mary Our Lady and president of the Latin-American Confederation of Religious, told the journalists that the Synod participants have a "desire to live like Jesus "who humanises, who dignifies, who includes, Jesus who opens the door to the other."
FULL STORY
Synod: 'Church most beautiful Church when doors are open' (By Alessandro Di Bussolo, Vatican News)
Synod on Synodality: Who is overseeing the draft report at the end of the assembly? (CNA)
RELATED COVERAGE
Synod focus on welcoming is what Jesus would do (OSV News)  
Synod cardinal speaks on LGBTQ+ Catholics and those who love the Traditional Latin Mass (CNA)