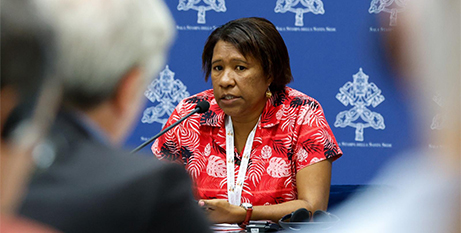 Discussions at the Synod on Synodality this week have focused on issues of poverty, migration, abuse and sexual identity, journalists were told at a Vatican press briefing yesterday. Source: Vatican News.
President of the Commission for Information, Paolo Ruffini and a panel of guests gave journalists an overview of the Synod's work between Tuesday afternoon and Wednesday morning,
Dr Ruffini said a small 'working group' was held at the Pope's residence at Casa Santa Marta on Tuesday, where some of Rome's poor were invited to lunch with Francis and Papal Almoner, Cardinal Konrad Krajewski.
Those who took part in the meal were also asked what they expected from the Church. "Their answer was: 'Love. Only love'," Dr Ruffini said.
At the press briefing, Oceania Synod member Grace Wrakia expressed gratitude to the Pope for inviting representatives from the Solomon Islands and Papua New Guinea to the Synod.
"For so many years," she said, "we have been listening and now we'd like to speak and we'd like you to listen to that. We have something to give to the world. And what we give is from our heart is our way of living, living in communion, living together and building relationship."
Listing the topics addressed by small groups and congregations, Dr Ruffini explained that many speeches touched on the theme of peace and the people suffering from war.
Abuse was another central theme in the reflections. "There was talk of our credibility being questioned by scandals such as sexual abuse and the need to eradicate all sexual, power, and spiritual abuse and do everything, continue to do everything, to be close to the victims," Dr Ruffini said.
In the groups and speeches, the issue of sexual identity was then addressed. It was said that it must be tackled "with responsibility and understanding, remaining faithful to the Gospel and the teachings of the Church," explained the Prefect of the Dicastery for Communication.
As for the issue of migrants, some bishops have "asked for help from other bishops' conferences" that are in better situations from the point of view of integration and reception.
FULL STORY
Synod briefing: Prayers for victims of war and voice of those saving lives at sea (By Salvatore Cernuzio, Vatican News)
RELATED COVERAGE
Synod on Synodality members ask 'for greater discernment' of Church teaching on sexuality (CNA)